Maritime Ritual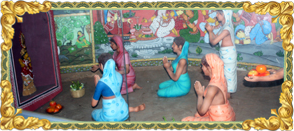 Rituals play an important role in the life of Indian people without any distinction of creed. In early times before embarking upon trans-oceanic voyages people followed elaborate rituals for consecrating the ship to be sailed on, the guardian deities of water, protection of voyages and so on. These rituals are even found now followed by boat builders and sailors alike in different forms. The Silpasastras on boat building also prescribe for consecration of Boats/Ships before use. The rituals are found in varied forms in the coastal regions of the country and inland water bodies with regional differences.

The rituals of sea voyage have been transformed in due course into traditions and are to be seen in folk forms of performing arts and festivals of the region. In Odisha we have different folk forms and festivals which carry the traditions of ancient sea voyages by Odia people.

Some such rituals performed during different festivals in Odisha are presented in this Gallery through photographs, illustrations, dioramas and objects used in these festivals and performances.
Ritual Photo Gallery